My card today is for a challenge I do with a couple of friends of mine. Each month we challenge each other to create something using supplies we all own.
For our challenge this month we were to create a card Inspired by a technique shown by Jennifer McGuire. This is probably one of the harder challenges we have done, for the simple reason Jennifer has so many wonderful ideas that you can't decide which one to do.
For my cards today I finally decided to use her Rotated Stencils technique that she shared the day I ended up making my cards. You can find Jennifer's blog post here.
I ended up making two cards using the one stencil as I had used light blue card for one and teal for the other but the stencil and inks were the same. I liked both results ... so two cards.
The stencil I used for both card was the Waves Stencil from Hero Arts. I sponged Hero Arts Topaz Teal ink through the stencil onto Teal cardstock. Once I had cover the card with ink I cleaned the stencil and then turned the stencil 180 degrees and sponged over Unicorn White Ink also from Hero Arts.
To decorate my card I used Concord & 9th's Everyday Circle die set and sequins.
I had a little bit of the stencilled background left over so I added this to the inside of the card and then added the "Thinking of You" sentiment from Concord & 9th's Fabulous Phrases die set.
For my second card I used the same inks and stencil but this time around used light blue cardstock for the base.
I then used the MFT Stamps Stitched Basic Scallop Edge to create the fancy edge at the bottom of the panel.
I hand cut a fishtail banner and added the "Fabulous Friend" sentiment from the Concord & 9th Fabulous Phrases die set. The circle pieces coming off the fishtail banner was created using the thin circle created when die cutting the circle from the Everyday Circles die set.
At the bottom of the card I added the heart border which is from a Simon Says Stamp die set. Inside the heart and the glitter dots on the fishtail banner were created using
Nuvo Aquatic Mist Glitter Drops.
For the inside of the card I added the off cut created from the front panel and added the HB to you sentiment from Simon Says Stamp which I die cut into the circle from Concord & 9th's Everyday Circles die set.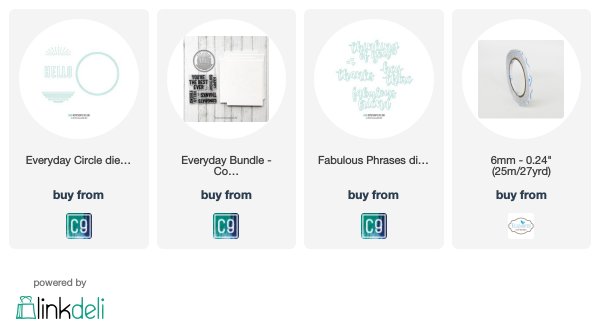 Card 1 Supplies -
Paper: White; Teal; Dark Teal
Dies: Everyday Circle; Fabulous Phrases - Concord & 9th; Stitched Scallop Basic Edge - MFT Stamps
Other: Unicorn White Ink Cube; Teal Topaz Ink Cube - Hero Arts;

Waves Stencil - Hero Arts; White Sequins; Blue Rhinestones; Foam Tape
Paper: White; Black; Blue; Teal; Dark Teal
Dies: Everyday Circle ; Fabulous Phrases - Concord & 9th; Stitched Scallop Basic Edge - MFT Stamps; Highlight Frames; Happy HB - Simon Says Stamp
Other: Unicorn White Ink Cube; Teal Topaz Ink Cube - Hero Arts; Waves Stencil - Hero Arts; Nuvo Aquatic Mist Glitter Drops; Foam Tape