It's challenge time with the "Crazies" over on the Crazy 4 Challenges blog. Karen Aicken our challenge hostess for the month continues to issue the challenges.
"Lest We Forget" In Canada and Australia, today is Remembrance Day. From Wikipedia:

Remembrance Day

(sometimes known informally as

Poppy Day

) is a memorial day observed in Commonwealth of Nations member states since the end of the First World War to remember the members of their armed forces who have died in the line of duty. Following a tradition inaugurated by King George V in 1919,

[1]

the day is also marked by war remembrances in many non-Commonwealth countries. Remembrance Day is observed on 11 November in most countries to recall the end of hostilities of World War I on that date in 1918. Hostilities formally ended "at the 11th hour of the 11th day of the 11th month", in accordance with the armistice signed by representatives of Germany and the Entente between 5:12 and 5:20 that morning. Include Poppies on your card today, or make a card of gratitude and/or respect.
I love the ModaScrap Lacy Poppies die set from Elizabeth Craft Designs, so knew I had to use that for this week's challenge. I also used the ModaScrap Pair of Leaves 1 and the A Way with Words - Remember sentiment, which I thought worked perfectly for this challenge.
For the base of my card I created a U Fold Card, this is a fun style of card to make.
To create this I started with a piece of cardstock 22.5cm x 13cm and scored along the long edge at 3.5cm; 7cm; 15.5cm and 19cm. The panel on the front that the word "remember" is on is 15.5cm. I normally change the height of the card depending on what I am putting in the "U" part of the card.
Here is another view of my card, looking down into the bottom of the card. I added two tabs to the bottom section so I could add addition poppies and leaves.
I also added black prills to the centre of the two full poppies.
And finally a look at my card when it is folded flat ready to be placed in an envelope.
Don't forget to check out the rest of the "Crazies" cards over on the
Crazy 4 Challenges blog
and also their individual blogs for more details.
Supplies:
Elizabeth Craft Designs: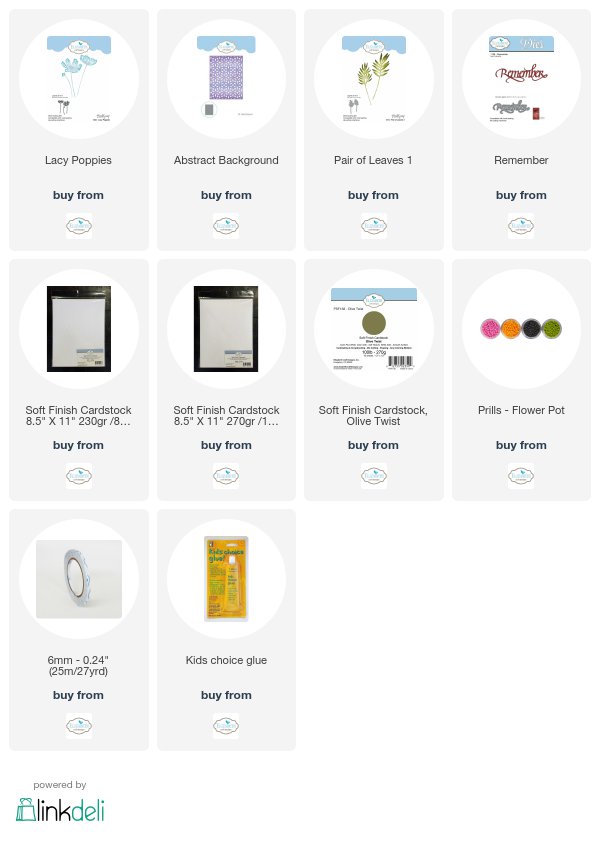 Other:
Cardstock - Black
Picky House Slippers 12 x 12 Paper - Lawn Fawn
Nuvo Drops - Ebony Black; Autumn Red
Foam Tape
Copics