Today I am sharing two cards I created using the new ModaScrap Flower Lace dies (Flower Lace 1 & Flower Lace 2) with Silk Microfine Glitter. This past weekend I was demoing Elizabeth Craft Designs at the Scrapbook & Papercraft Expo down here in Brisbane. Of course I had to demo the new ModaScrap dies which have just been released as well as Silk Microfine Glitter. As you can see I have combined the two for these cards.
For this card I used the ModaScrap Flower Lace 1.
Covered a piece of cardstock with Clear Double Sided Adhesive Tape on the front.

Die cut the Flower Lace 1 from the release sheet taken from the front of the adhesive tape.

Place the die cut release sheet Flower Lace panel to the centre of the adhesive.

Cover the adhesive on the card with Blue Streak Silk Microfine Glitter polishing the glitter in with my finger.

Carefully remove the die cut image from the adhesive and covered the remaining exposed adhesive with Cool Diamond Silk Microfine Glitter.
For this card I used the same technique as the card above, just using the Flower Lace 2 and Bright Grape Silk Microfine Glitter.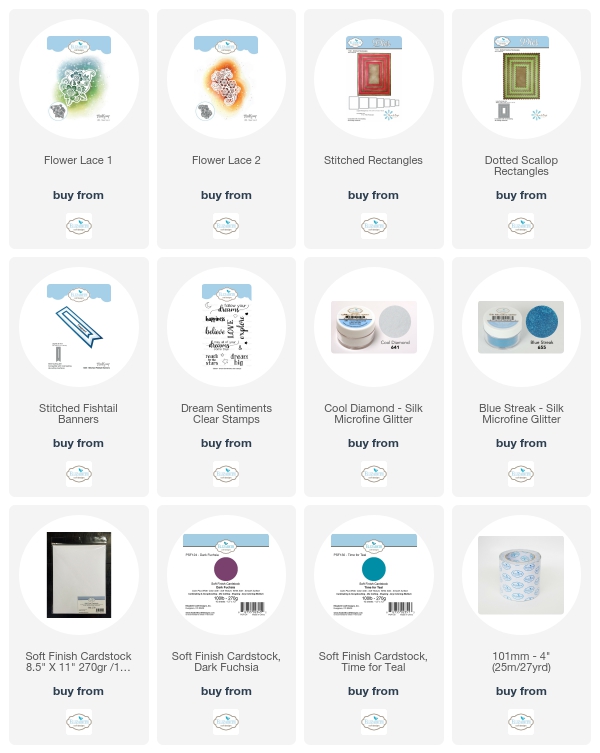 Stamps: Dreams Sentiments - Elizabeth Craft Designs
Paper: White Soft Finish Cardstock; Time for Teal Soft Finish Cardstock; Dark Fuchsia Soft Finish Cardstock

- Elizabeth Craft Designs
Dies: ModaScrap Floral Lace 1; ModaScrap Floral Lace 2; ModaScrap Stitched Fishtail Banners; Stitched Rectangles; Dotted Scallop Rectangles - Elizabeth Craft Designs
Other ECD Products: Clear Double Sided Adhesive Tape 101mm; Clear Double Adhesive Tape 6mm; Blue Streak Silk Microfine Glitter; Bright Grape Silk Microfine Glitter; Cool Diamond Silk Microfine Glitter