I recently acquired a Couture Creations Go Press & Foil Machine and of course I wanted to play with it. You are supposed to be able to use dies you own with this machine, so of course I had to try it.
For my first attempt I used the ModaScrap Leaf Pocket die and used this to foil a piece of white cardstock with gold foil. I really love how it turned out. I then added color to the cardstock using various greens and yellow inks.The foil resists the inks.
To decorate my card I used the Susan's Garden Dahlia ... I had one sitting around waiting to be used on a card. As I didn't want to hid too much of the background I added the flower to a circle layer which I adhered to the lower corner of my card.
As you can see I have kept the inside of the card simple by adding the sentiment "Love You" which could be for any occasion. To give the sentiment a little bit of sparkle I added Desert Gold Silk Microfine Glitter to it.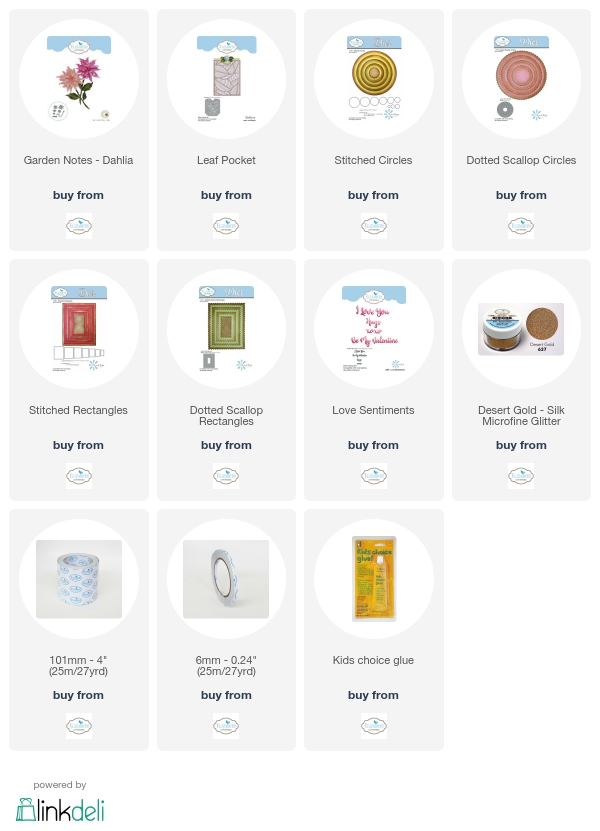 Paper: White; Gold Mirror Card; Spring Green Soft Finish Cardstock - Elizabeth Craft Designs
Dies: ModaScrap Leaf Pocket; Susan's Garden Dahlia; Stitched Circles; Dotted Scallop Circles; Stitched Rectangles; Dotted Scallop Rectangles; Love Sentiments - Elizabeth Craft Designs
Other: Couture Creations Go Press and Foil Machine; Gold Foil; Susan's Garden Tool Kit; Bright Gold Nuvo Drops;

Green Inks; Foam Tape;

Copics