Merry Christmas Everyone!!!!
It's Christmas Day already down here in Australia! I must have been a good girl this year as I did very well 😀
There are many of you who visit my blog regularly, so I would like to take this opportunity to thank you all so much for your support throughout the year. Hope you all have a wonderful and safe Christmas!
A couple of months ago, when I attended a local craft show I discovered an Australian stamp company that had an Aussie stamp set for sale. Of course being an Aussie, I had to buy the set and decided I would use this for my card today.
The cute wombat, koala and kangaroo and the Aussie Christmas sentiments are from a stamp set from Beccy's Place. Not sure I have referred to Christmas using most of these phrases, but it makes a fun card!
As you can see I have created a Twist Panel Pop-up card using Karen Burniston's Twist Panel Pop-up die set. I have also used the grass from the Nature Edges die set and the Gift Card Label die.
To give it a little bit more of an Aussie feel, I also added gum leaves from Ultimate Crafts.
As the focus of this card is on the inside, I kept the front of the card fairly simple. I used the Gift Card Label die set again and added a sentiment and some gum leaves like I did on the inside of the card.
I also added Nuvo Drops to each of the fleur de lis.
Here is a look at my card as it is closing, you can see how the 4 panel fold in the centre folds up and starts to turn to the side.
And finally a look at my card when it is closed. My card is a little thick when closed because I like to use foam tape on some of the elements of the accordion panel on the inside of the card ... as it will be hand delivered this doesn't matter. However if you don't want a thick card eliminate the foam tape.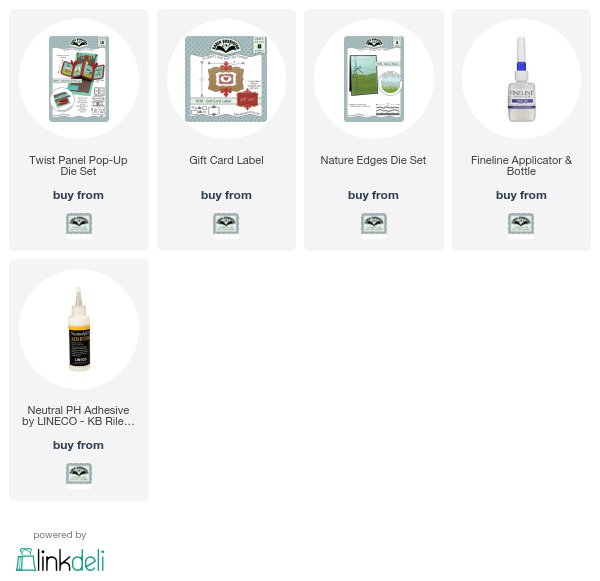 Stamps: Aussie Christmas - Beccy's Place
Paper: White; Red; DP - Kaisercraft
Dies: Twist Panel Pop-up; Nature Edges; Gift Card Label - Karen Burniston; Gum Leaves - Ultimate Crafts
Other: Black Ink; Cracked Pistachio Distress Oxide; Peacock Feathers Distress Oxide; Peel Paint Distress Ink; Neptune Turquoise Nuvo Crystal Drops; Foam Tape