Welcome to our Paper Pros challenge for October! This month our challenge is hosted by Caz Counsell who has given us the challenge for creating Holiday cards.
As you can see I decided to create a Christmas card for the challenge today. To create my card I used the Christmas Tree Pop-up from Karen Burniston's latest die release ... I love how easy this tree is to put together and how fun it is to display!!!
The papers used for this card were some I found in a magazine I recently purchased. I seldom use the papers in any magazines, but I really liked the colors/design of these papers so I had to use them. The tree uses some of the star paper from the magazine, so I decided I didn't need to decorate it with any ornaments. I did add the star to the top of the tree which has been foiled using Silver Matte Finish Foil.
Along the front edge of the card I added some snow using the Nature Edges die set. I added a bear from the Winter Animals die set and a couple of presents from the Birthday Charms die set. I also added Merry Christmas to each of the red borders using the Word Set 3 - Holidays.
Along the sided of the card I added a Pine Needle Border from Memory Box.
For the front of the card I repeated the layout that I used on the inside and added a Christmas sentiment to the top left hand side of the card which is a Hot Foil Stamp and then foiled using the same Silver Matte Finish Foil I used for the star on the inside.
One last photo to show how the tree folds to the side as it is closing. The card will fold completely flat so it can be placed in an envelope for mailing.
You can see what the other "Paper Pros" created for this challenge on their blogs:
Shelly Hickox
Supplies:
Karen Burniston: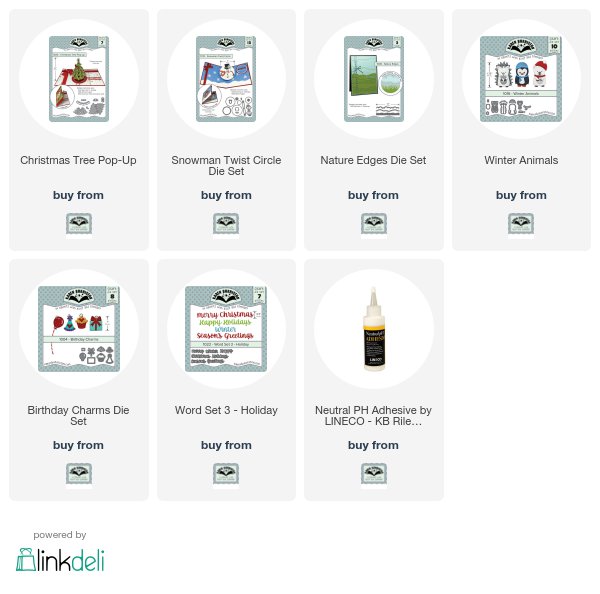 Other:
Paper: White; Red; Green; Designer Paper - Card Making in Easy Steps Magazine
Dies: Christmas Tree Pop-up; Snowman Twist Circle; Nature Edges; Birthday Charms; Winter Animals; Word Set 3 Holiday - Karen Burniston; Pine Needle Border - Memory Box; Fishtail Flags Stax - MFT Stamps
Other: We Wish You Hot Foil Stamp - Couture Creations; Silver Foil (Matte Finish); Copics